MENU
We prioritize purchasing from Indigenous food producers locally and nationally. We have removed colonial ingredients such as wheat flour, cane sugar and dairy. We are proud to present a decolonized dining experience.
Make Reservations
BEER + WINE
We choose to support and purchase from BIPOC (Black, Indigenous, People of Color) and women producers for our alcoholic beverage selections. We are excited to present a primarily Indigenous- produced wine list featuring selections from native winemakers in California, Mexico's Valle de Guadalupe, and Maori wines from New Zealand. We will continue to seek out and elevate beer and wine selections crafted by BIPOC and women producers in a largely non-diverse and privileged industry.
Make Reservations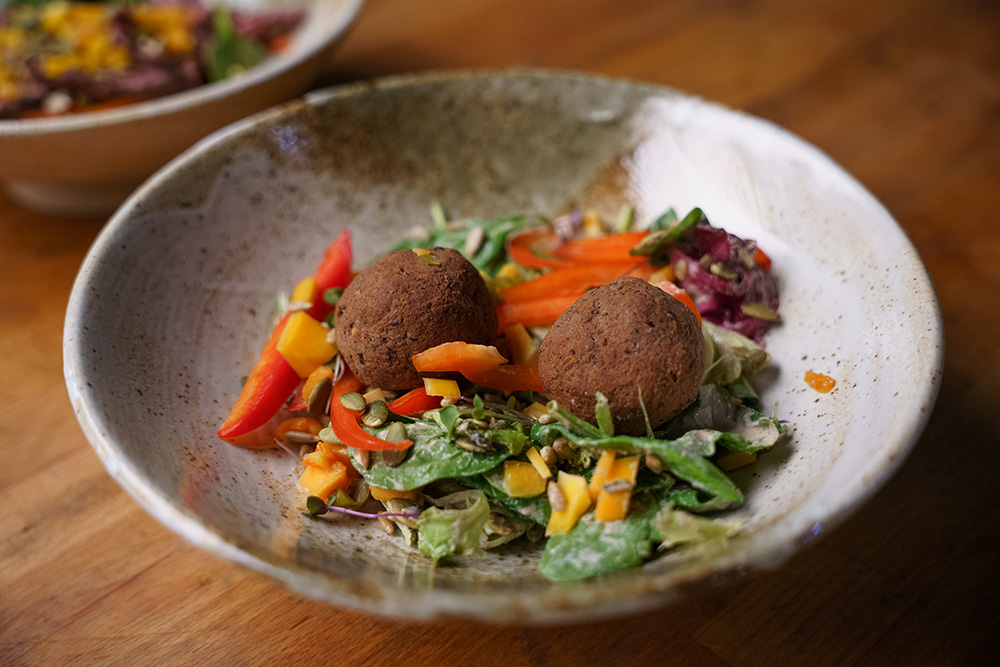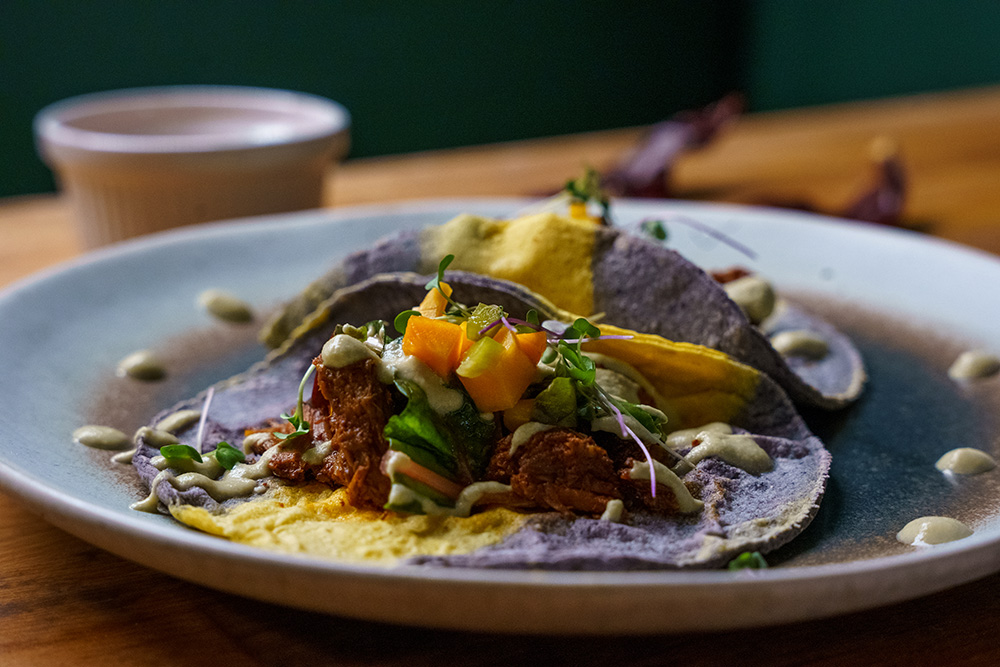 Plant • Wathótho
THREE SISTERS STEW • Squash Broth • Tepary Beans • Hominy • $14
TEPARY BEAN DIP • Wild Rice Cracker • Tostadas • $11
SOFKEE • Spicebush • Maple • Berries • $12
SWEET POTATO • Maple Chile Crisp • $15
TRUE WILD RICE • Hand Harvested • $10
MARGICHOU • Caramelized Sweet Corn + Onions • Green Tomatoes • Warrior Blend Seasoning • $12
FIRE ROASTED PUMPKIN • Guajillo Salsa • Chili Crisp • Tortillas • $16
Game • Thadó
OYSTERS • Poblano Mignonette • $24 for 6 / $42 for 12
SUPERIOR WHITE FISH CAKE • White Fish • Smoked Walleye • Wojapi• Crabapple Butter • $25
CRICKETS + POPCORN • Seed Brittle • $12
ELK BEANS • Smoked Elk • Tepary Beans • $18
ANTELOPE SPOONBREAD • Braised Antelope • Spoonbread • Berry Salsa • Tortillas • $16
BISON POHYA • Wojapi Glaze • $14
SHAVED BISON PICANHA • Roasted Berries • Pickles • Squash Aioli • Cured Duck Yolk • Pumpkin Oil • $28
To Share • Wakšíka Thanka
PHEASANT • Maple Glaze • Squash Purée • Roasted Berries • $65
SMOKED BISON RIBEYE • Braised Greens • Sweet Potato Mash • Bison Stock Reduction • $68
STUFFED POBLANO • Picadillo • Walnut Mole • Prickly Pear • $35
Sweet • Skúya
PAWPAW CUSTARD • Squash Caramel • Fermented Berry Dust • Nuts • $12
WILD RICE PUDDING • Hazelnut Sun Butter • Sunflower Brittle • Honey • $12
TORTILLAS • TOSTADAS • $2
Sauces • Iyúdthuŋ • $1
Chimichurri • Hot Sauce • Guajillo Salsa • Wojapi • Maple Chile Crisp + Oil • Garlic Squash Aioli*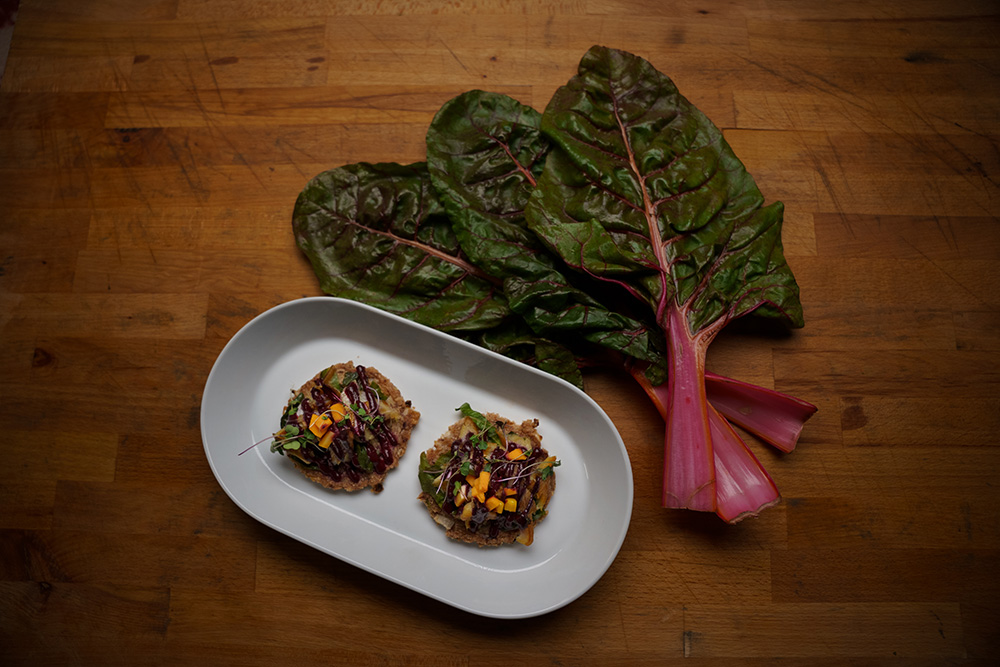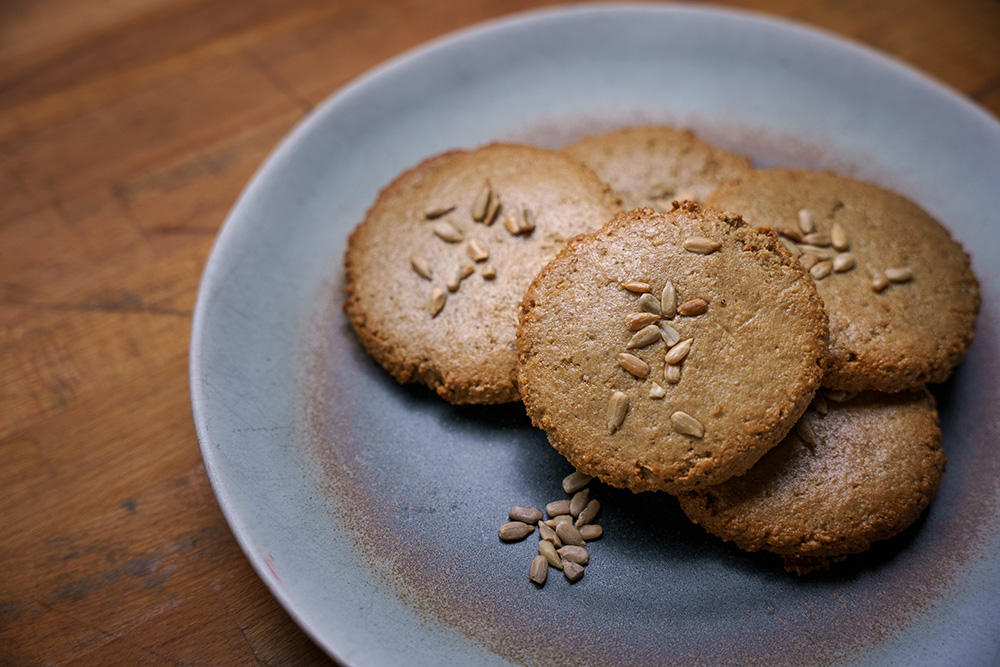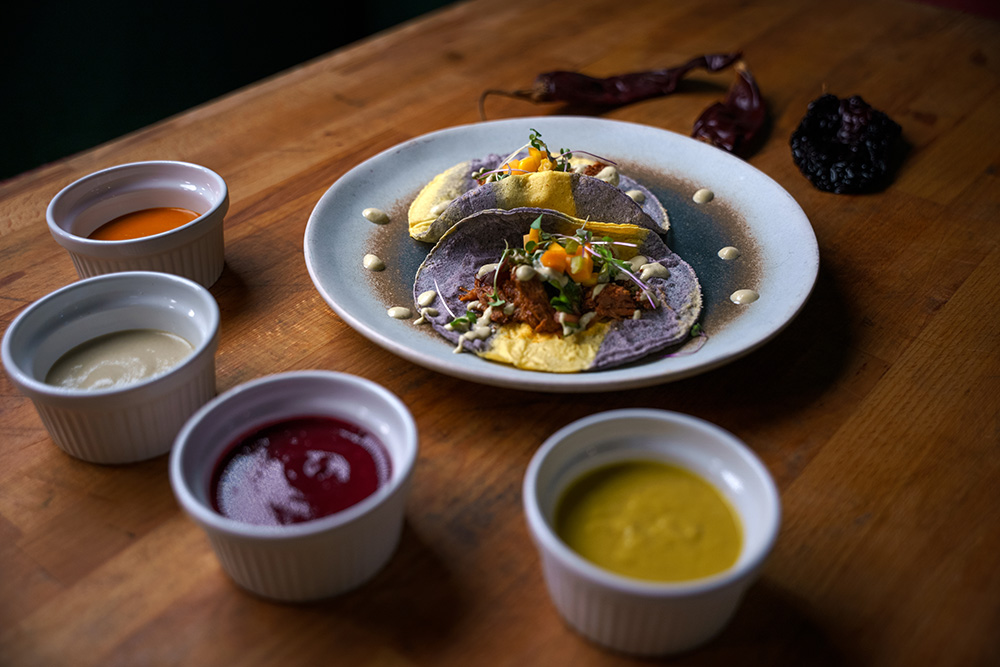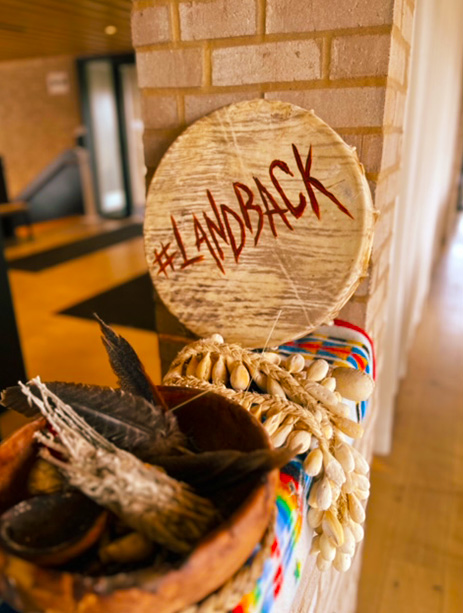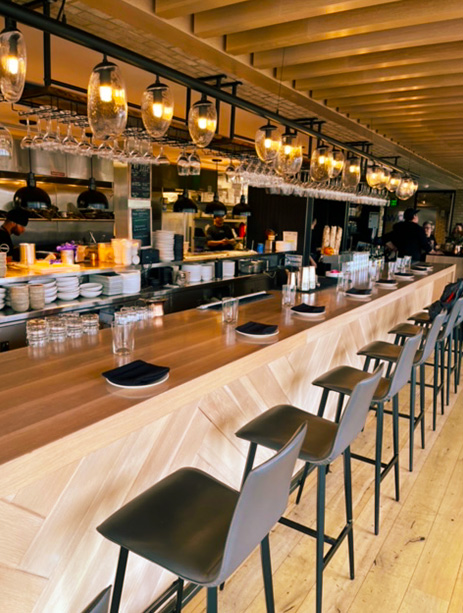 At Owamni, we look at the world through a decolonized lens — which to us, is simple. The Indigenous perspective on the history of America is to acknowledge the centuries of intense violence, dislocation, forced assimilation, segregation and cultural erasure that has happened to our cultures and communities.
We reject the values that have been upheld by settler colonialism, such as the wanton destruction of environment, including mining, logging, and monoculture agriculture, all of which contribute to the enrichment of a select few while our beautiful Indigenous landscapes and the people who have traditionally lived on them are continually abused.
The goal of this restaurant is to showcase modern Indigenous foods. This means that we prioritize purchasing from Indigenous producers first, and build our seasonal menus to reflect region, culture, and specific Indigenous identities.
We have cut out colonial ingredients such as beef, pork, chicken, dairy, wheat flour, and cane sugar, instead highlighting the true agricultural products of North America, such as corns, beans, squashes, wild game, birds, fish and Native plants. This approach offers a different story of American cooking than the Eurocentric one that is traditionally touted— instead celebrating the amazing Indigenous diversity of Turtle Island.
We hope you enjoy it!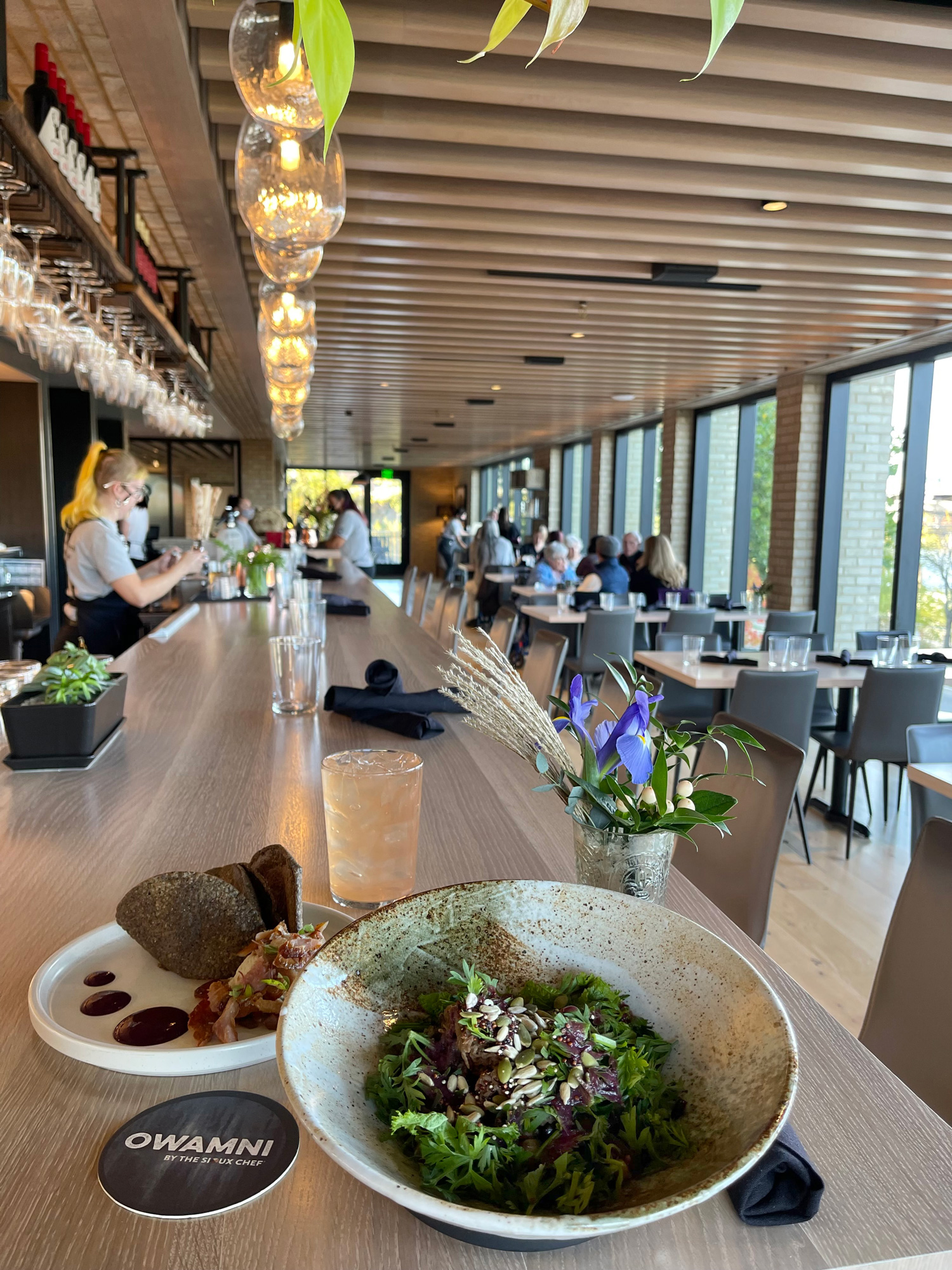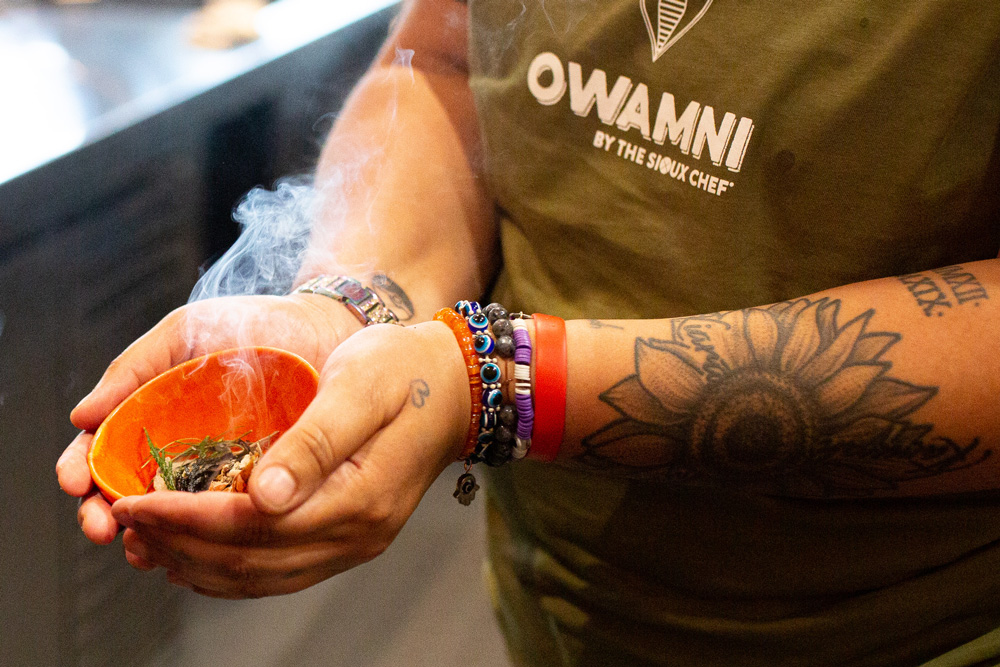 STAFF EQUITY, WAGES + SERVICE CHARGE
We aim to operate a sustainable business and provide an above-standard work environment, wages, and benefits for our staff. We include an 13% service charge to support higher wages for our staff. This is not a gratuity pursuant to MN Statute R. 5200.0080. We have left you the opportunity to provide gratuity for your service staff. A combination of both allows us to hire and maintain staff in a competitive labor market.
Owamni is owned and operated by our non-profit 501c3, NATIFS.org. Please visit our website for more information on our work, and find out how you can help us preserve accessible Indigenous food and education for all.
Pilamayeyelo, Sean Sherman
Founder: NATIFS / Owamni / The Sioux Chef